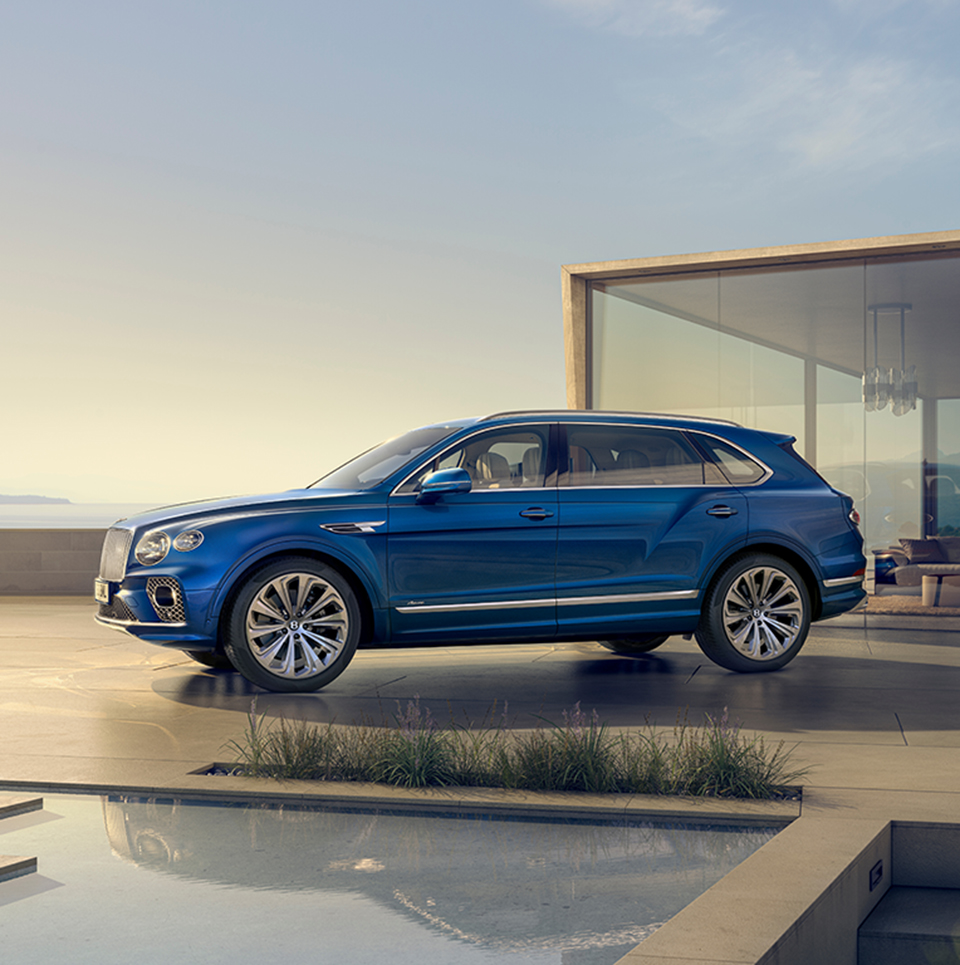 EXPLORE OUR MOST LUXURIOUS SUV
With a wealth of innovative features to boost the wellbeing of its occupants, the New Bentayga EWB Azure* sets new standards in comfort. For rear-seat passengers, it combines generous space with astonishing craft and design. For the driver, meanwhile, it pairs Bentley's latest powertrain technology with numerous cutting-edge chassis systems and driver assistance features, to make everyday driving effortless.
As luxurious for the driver as it is for its passengers, the New Bentayga EWB Azure pairs unparalleled craftsmanship with the latest in driving technology. To call it the best high-end SUV would be something of an understatement. Consider it a sanctuary in motion.
The New Bentayga EWB Azure is a car with design at its heart. From the outside, it appears beautifully proportioned, with little indication of the extra space on offer within. The entire front of the car gleams, thanks to the exclusive polished chrome finish on the lower bumper grilles that complement the main grille, for the ultimate statement of elegance. Yet for many, it will be the unique wheels that mark the car out. Measuring an eye-catching 22" and featuring a 10-spoke design in three different finishes, they are both stunning and exclusive to the Azure.
TAKING COMFORT TO NEW HEIGHTS
Offering a true sense of sanctuary and unique wellness features, alongside an extended wheelbase, the New Bentayga EWB Azure takes comfort to new heights – making it a candidate for the most luxurious large SUV on the road. The pinnacle of SUV luxury for driver and passengers alike, it features a 4.0 litre V8 petrol engine. Schedule your appointment at Bentley Walnut Creek to build and create your bespoke Bentley Bentayga EWB. Our guidance and recommendation will guide you to your ideal SUV that fits your lifestyle needs and wants.
FEELS LIKE FLYING
As part of the optional Bentley Airline Seat Specification, the seat behind the front passenger can recline generously, with a footrest deploying from the back of the front passenger seat, which can fold forward if unoccupied. Seat Auto-Climate adds sensors to both rear seats, to maintain pre-set temperature and humidity levels, while Postural Adjust makes proactive micro-adjustments to the support in the seat, stimulating muscles and reducing fatigue. Both features are world-firsts.
LEAD FROM THE FRONT
The Front Seat Comfort Specification adds heating, ventilation and massage functions to the front seats, alongside comfort headrests and 20-way electrical adjustment. Mood lighting and air ionisers ensure the ambience is never compromised, throughout the car.
DRIVE SAFELY AND EFFORTLESSLY
With the Touring Specification installed as standard, long journeys are easier, safer and more enjoyable. Features include Adaptive Cruise Control, allowing you to take your feet off the pedals during highway driving and lane detection to correct you if you drift to the left or right. A head-up display makes it easy to see vital information, while a night vision camera improves safety on unlit roads.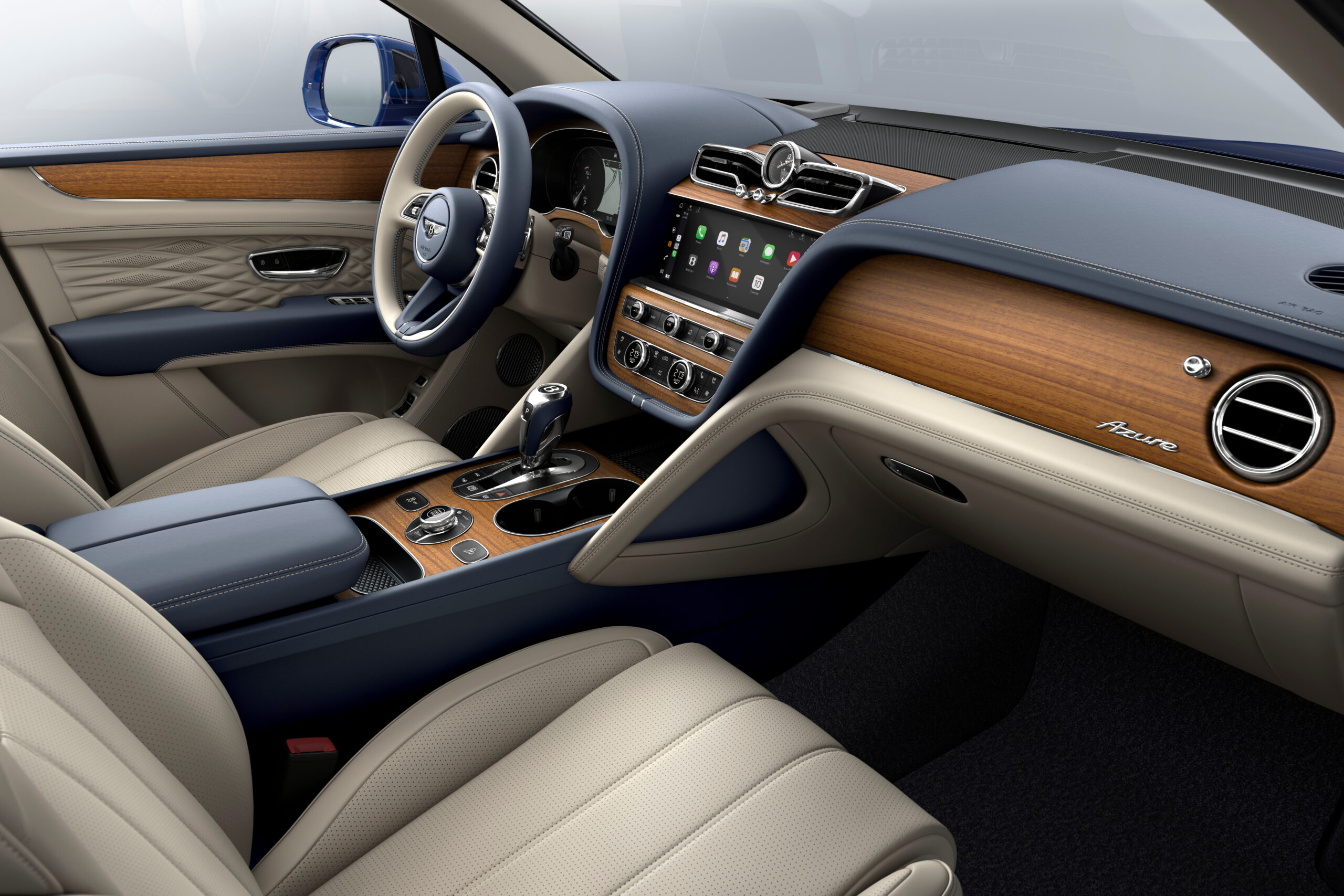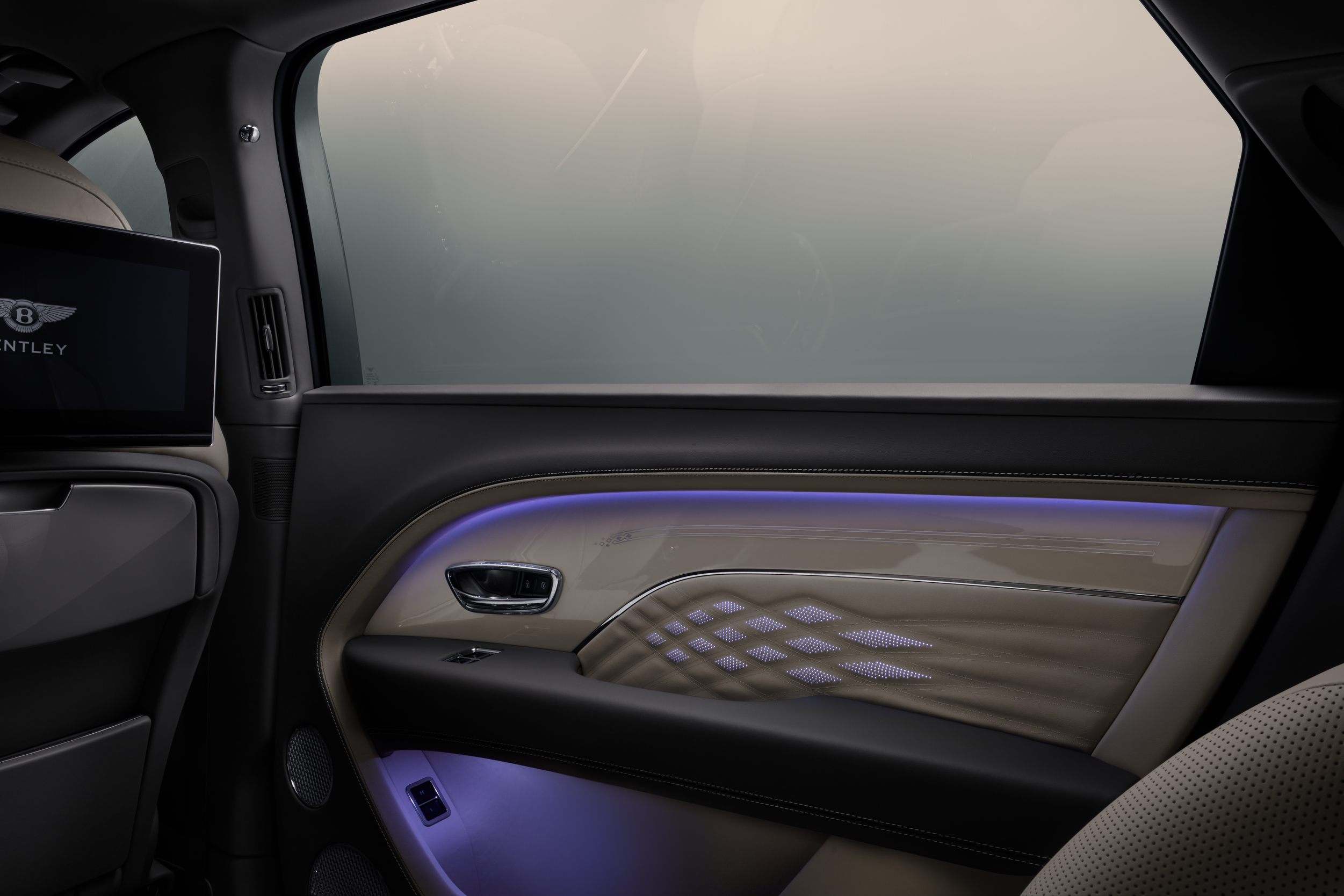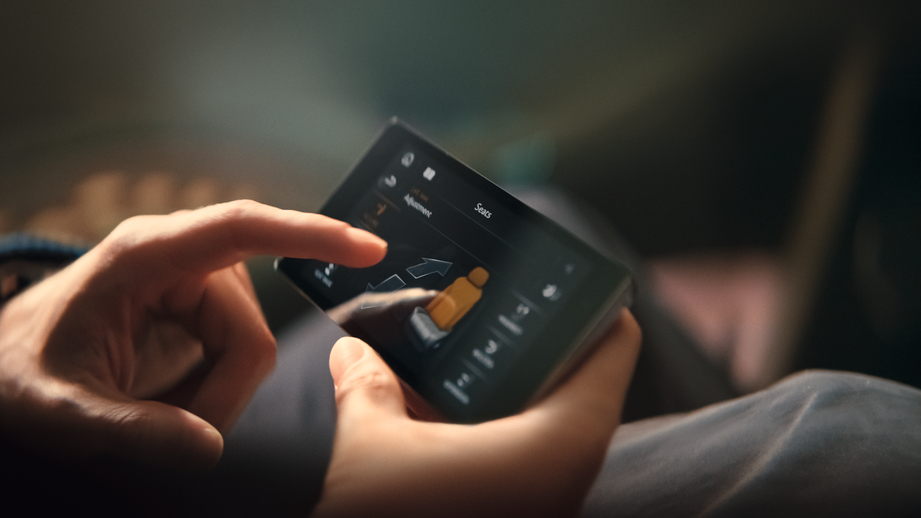 MODEL OVERVIEW
PERFORMANCE
A 4.0 litre V8 petrol engine delivers 550 PS and 770 Nm of torque, for a smooth surge of acceleration: 0-60 mph in just 4.5 seconds (0-100 km/h in 4.6 seconds).
The Bentley Dynamic Ride anti-roll system helps stabilise the cabin when the car is cornering, while also boosting cabin comfort on the open road. And thanks to All-Wheel Steering, the New Bentayga EWB Azure can be manoeuvred as easily as a much smaller car.
Whatever the situation, this is an effortless car to drive – but one with the power to excite you when required.
THE ENGINE
Max Power
542 BHP @ 6000 RPM
Max Torque
568 lb-ft @ 2000- 4500 RPM
Engine Capacity
3996 cc
Fuel Type
Petrol (RON95)
Acceleration
0 – 60 mph in 4.5 seconds
Max Speed
180 mph
NEDC DRIVE CYCLE
Combined Fuel Economy
23.5 mpg
Urban Fuel Economy
17.1 mpg
Extra Urban Fuel Economy
30.4 mpg
NEDC DRIVE CYCLE – WLTP EQUIVALENT
Urban Fuel Economy
17.1 mpg
Extra Urban Fuel Economy
30.4 mpg
Combined Driving Range
440.0 miles
WLTP
Combined Fuel Economy
21.7 mpg
Extra High Fuel Economy
23.9 mpg
High Fuel Economy
25.9 mpg
Medium Fuel Economy
21.4 mpg
Low Fuel Economy
13.5 mpg
Driving Range
406.4 miles
WEIGHTS AND VOLUMES
Boot Volume
13.42 cu-ft
Fuel Tank Capacity
18.7 gallons
Fuel Tank Capacity (US)
22.45 US gallons
DIMENSIONS
Overall Length
208.9 in
Width Across Mirrors
87.48 in
Overall Height
68.46 in
Wheelbase
125.0 in
NEW BENTAYGA EWB AZURE FIRST EDITION

To celebrate the arrival of the New Bentayga EWB*, a stunning First Edition is available. Subject to a limited production run, it combines many of the most desirable options available for the car with a package of eye-catching details found only on Bentley First Editions.
On the outside, exterior First Edition badging identifies the car – a theme that extends inside, with First Edition badging on the veneered fascia*, as well as First Edition embroidery on the seats. Unique First Edition Contrast Stitching adorns the seats and, depending on your choice of veneers, gleaming metal overlays can be applied to the fascia and waistrails in the front and the rear**.
As well as all the standard features of the New Bentayga EWB Azure, the First Edition includes premium features such as LED Welcome Lights, the Bentley Diamond Illumination and Naim for Bentley – arguably the world's best in-car sound system.
*Compatible only with Carbon Fibre, Grand Black and gloss wood veneers
**Compatible only with gloss wood veneers